The module Pro-TC-8-ISO has 8 inputs for connecting thermocouples of the types E, J, K, N, R, S and T (DIN IEC 584-1). Each channel is equipped with a separate ADC. With the active conversion it is possible to query the thermoelectric voltage or temperature of each channel by software.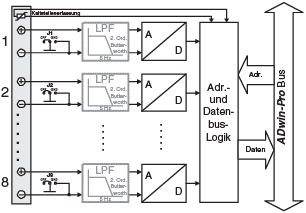 Of course, all temperature inputs provide a common cold junction compensation so that you will get correct temperature values. Input signals at the ADCs are acquired at a stepwise adjustable sample rate of 7 to 3500 Hz. The module calculates the thermoelectric voltage or the temperature value from the measurement signal in degrees Celsius or degrees Fahrenheit, consistent with the norm IEC 584-1.
You can set manually if the potentials of the lines are separated from each other or if the negative input is connected to ground.
Performace features
8 inputs for thermocouples
Thermocouple types with measuring range and accuracy:

Type E: -200°C ... 1000°C; 1°C
Type J: -210°C ... 1250°C; 1°C
Type K: -200°C ... 1372°C; 1°C
Type N: -200°C ... 1300°C; 2°C
Type R: -50°C ... 1768°C; 3°C
Type S: -50°C ... 1768°C; 3°C
Type T: -270°C ... 400°C; 1°C

Sampling rate: 7 Hz ... 3500 Hz
Temperature resolution: 0.1°C; calculation according to DIN IEC 684-1
Input resistance: 10 MΩ